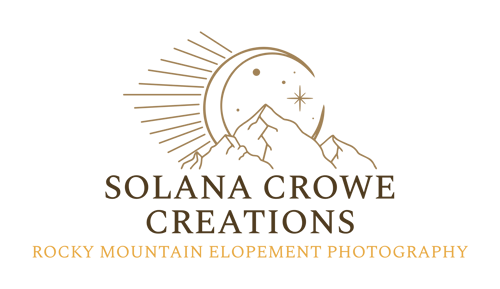 9 Reasons an Elopement is the Perfect Choice for a Wedding
Are you Dreaming of a wedding that is all about you and your partner and that reflects your love story and passion for adventure? An adventure elopement might just be the perfect choice for you! Here are nine reasons why you may want to consider eloping:
So you are trying to decide if eloping is for you! I do have to admit, even though eloping has so many benefits its not for everyone and that's ok! However in this post I will share will you some reasons why eloping may be for you.
Breathtaking Backdrops - An adventure elopement offers stunning and unique locations that are off the beaten path, such as mountain tops, forests, beaches, and more. These backdrops not only create beautiful and unforgettable photos, but also add an extra sense of adventure to your special day.

Intimate Experience - With an adventure elopement, you can create a truly intimate and personalized experience that reflects your unique love story. You can choose a location that is meaningful to you and your partner, and celebrate your love in a way that is true to who you are.

Flexibility - Unlike traditional weddings, an adventure elopement offers flexibility in terms of time, location, and itinerary. You can choose to have your ceremony at sunrise or sunset, hike to a beautiful mountain top, or have a romantic picnic in a secluded forest. The possibilities are endless! And if the wether is bad simply reschedule it so you can have your ideal day!

Budget-Friendly - An adventure elopement can and is way more budget-friendly than a traditional wedding, as it requires less planning and fewer vendors. Instead of dropping twenty thousand dollars on one big party, you can allocate your budget towards experiences and memories that truly matter to you, such as hiring an experienced adventure elopement photographer to capture your special day.

Memorable Experience - An adventure elopement is not just a wedding, but a memorable and unique experience that you and your partner will cherish for a lifetime. You'll have unforgettable memories of your special day, and stunning photos that capture the essence of your love story in a way that is natural, authentic, and timeless.

In addition to the reasons mentioned above, an adventure elopement can also offer a sense of freedom and authenticity that is not always possible with a traditional wedding. With fewer guests and less formalities, you can truly be yourselves and focus on what matters most - your love for each other.

Another benefit of an adventure elopement is the opportunity to include unique and meaningful elements that reflect your personalities and interests. For example, you can incorporate your favorite outdoor activity into your elopement, such as hiking, skiing, or rock climbing. You can also include cultural traditions, special readings, or personal vows that truly reflect your relationship.

An adventure elopement also allows for more privacy and control over your special day. You won't have to worry about unexpected guests or interruptions, and you can plan the day according to your own preferences and timeline. You can also choose to have a small and intimate ceremony, or invite a few close friends and family members to share in the experience.

Finally, an adventure elopement can be a great way to start your marriage with an unforgettable adventure that sets the tone for your future together. It can be a symbol of your commitment to each other and to living a life full of adventure, passion, and love.
At Solana Crowe Creations, we specialize in capturing the beauty and essence of adventure elopements in the stunning Alberta Rocky Mountains and beyond. We understand the unique challenges and opportunities of planning an adventurous elopement, and we are committed to creating a personalized and unforgettable experience for each of our clients. Contact us today to learn more about our elopement photography services and how we can help you create the elopement of your dreams.