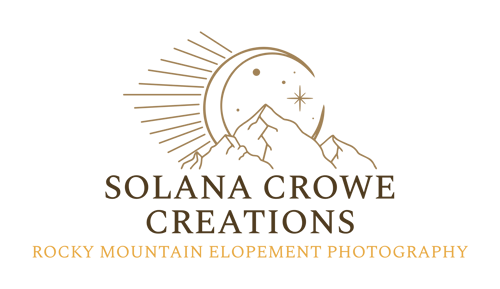 Banff elopement: Canmore, Peyto Lake & Bow Lake
Alec and Hayley's elopement in Banff! These two traveled all the way from the eastern United States to elope in the Canadian Rockies. They choose to start their day in Canmore before heading to peyto lake for their ceremony and finally bow lake for sunset!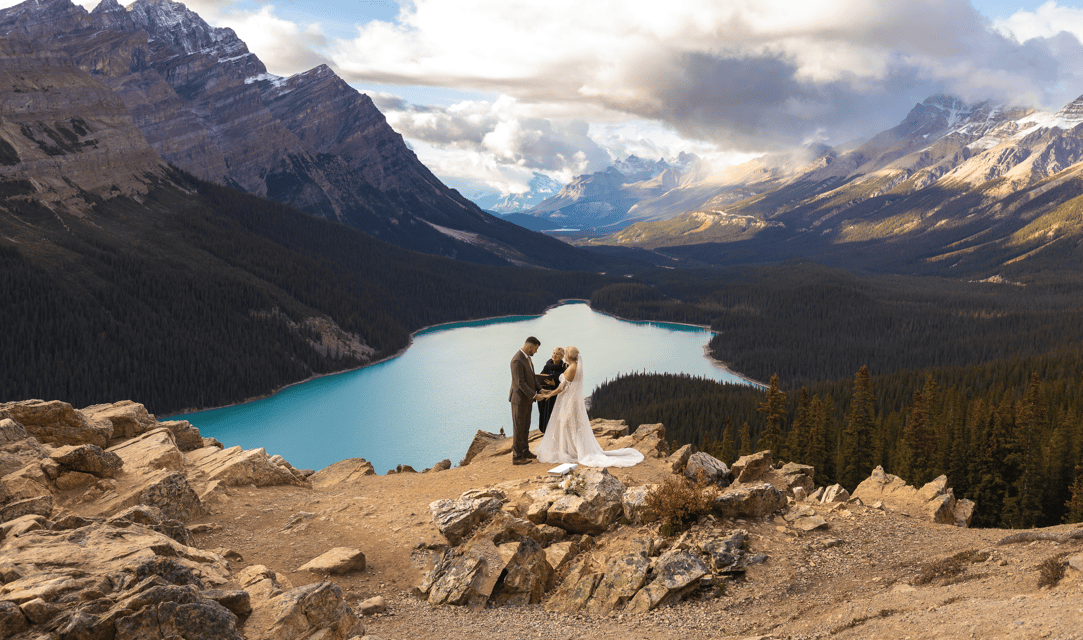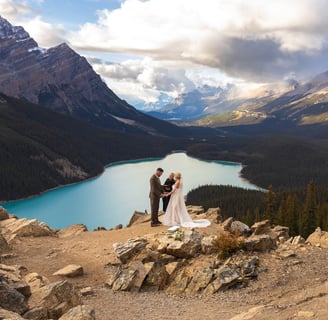 A Banff Elopement To Remember
Alec and Halye had a beautiful day eloping in Banff National Park! The day started in Canmore, where they found themselves standing in a picturesque field, gazing at the majestic Three Sisters mountain range.
With excitement buzzing in the air, they proceeded to make their way to Peyto Lake for their intimate ceremony. Surrounded by nature's serenity and the turquoise hues of the lake, their love story unfolded in a truly magical setting.
As the sun began to set, casting a golden glow on the mountains, Alec and Hayley concluded their unforgettable day at Bow Lake. The tranquil waters mirrored their happiness, creating a reflection of pure bliss.
It was a day filled with love, beauty, and the undeniable charm of the Canadian Rockies.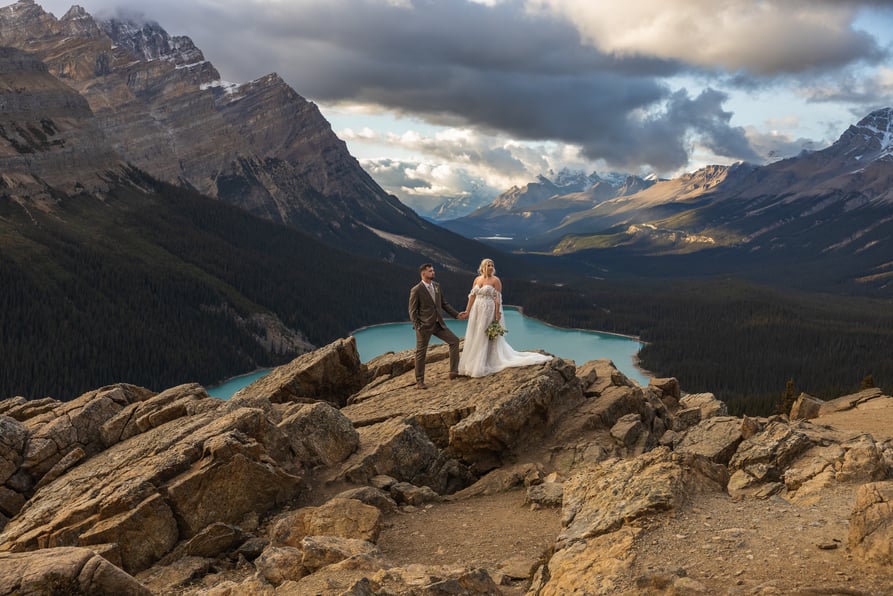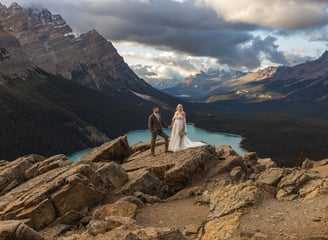 A Elopement starting in Canmore
On the elopement day of Alec and Hayley, we began our journey in Canmore, where we embarked on an incredible adventure.
The day started with a breathtaking view of the majestic Three Sisters mountains. As we walked through the fields, Alec and Hayley were filled with excitement, their eyes sparkling with love and anticipation. Their dream location was a spot with a field and a mountain view and I helped them find just that!
The towering mountains stood proudly in the background, reminding us of the grandeur of nature and the power of their love. The air was crisp and filled with a sense of tranquility, as if nature itself was celebrating their union. It was a perfect start to a day that would be in their memories forever.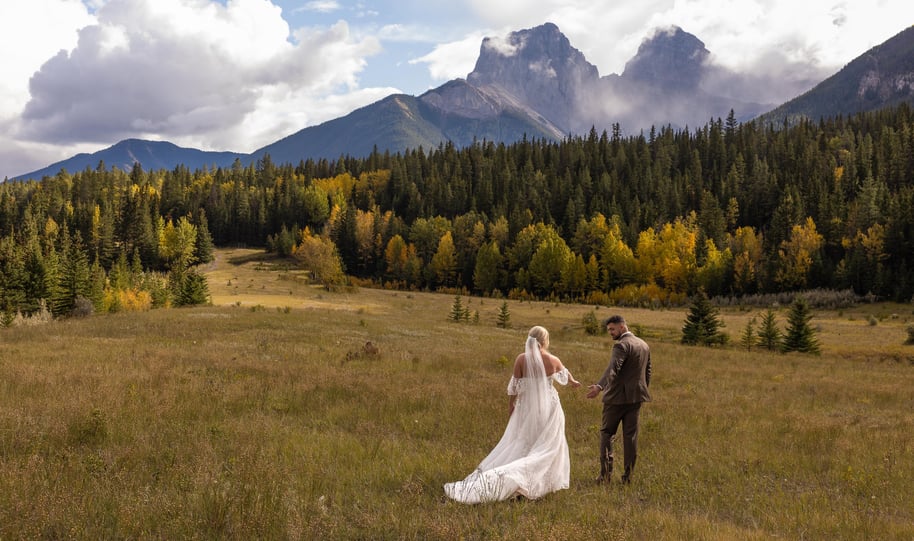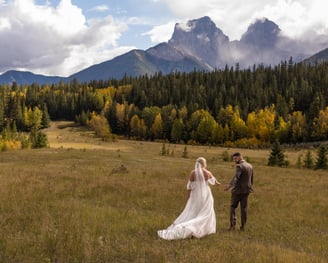 The Most Epic Wedding Ceremony At Peyto Lake
On their elopement day in Banff, Alec and Hayley embarked on the second part of their unforgettable adventure.
highlight of their day was the second part, taking place at the majestic Peyto Lake. After a brief but scenic 10-minute hike, they arrived at the breathtaking viewpoint overlooking the lake, shaped like a wolf. This secluded and awe-inspiring location served as the ideal backdrop for their intimate and heartfelt ceremony. With tears of joy streaming down their faces, they exchanged their promises and became husband and wife.
The air was filled with love and pure bliss as they sealed their vows with a celebratory champagne pop. This moment marked the beginning of their new chapter together, forever cherishing the memories created amidst the enchanting beauty of Banff.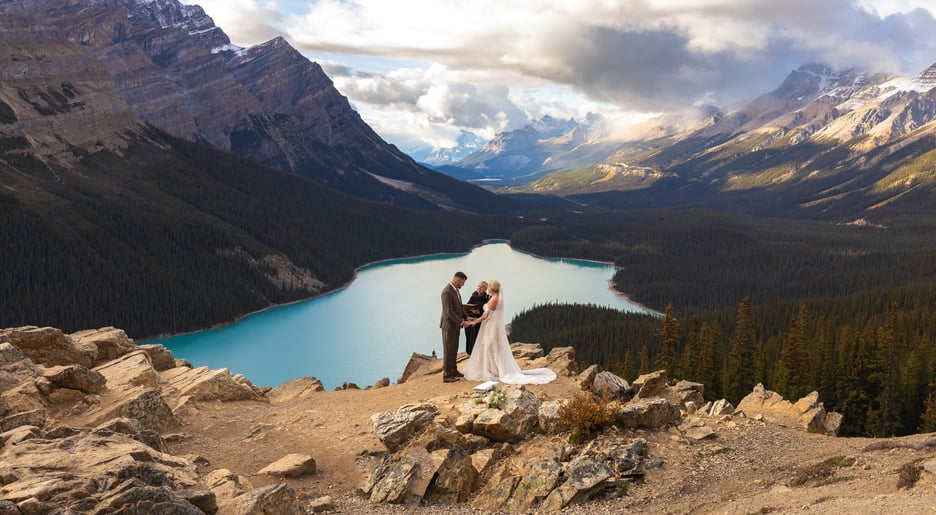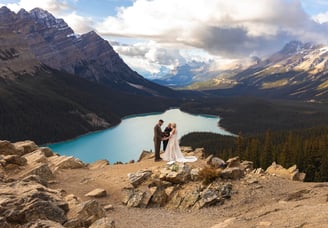 A Sunset To Remember At Bow Lake
Alec and Hayley's elopement day in Banff was truly magical. The third part of their day was spent at Bow Lake, where they were able to witness the breathtaking beauty of one of Banff's famous sunsets.
Although it was the end of September and a bit chilly, Alec and Hayley persevered like true champions, enjoying every moment of the picturesque view before them. As the day drew to a close, they even had the pleasure of catching a glimpse of the moon, adding an extra touch of enchantment to their already unforgettable day.
With hearts full of joy and memories that would last a lifetime, they bid farewell to Bow Lake and returned to Canmore, cherishing every moment of their elopement adventure.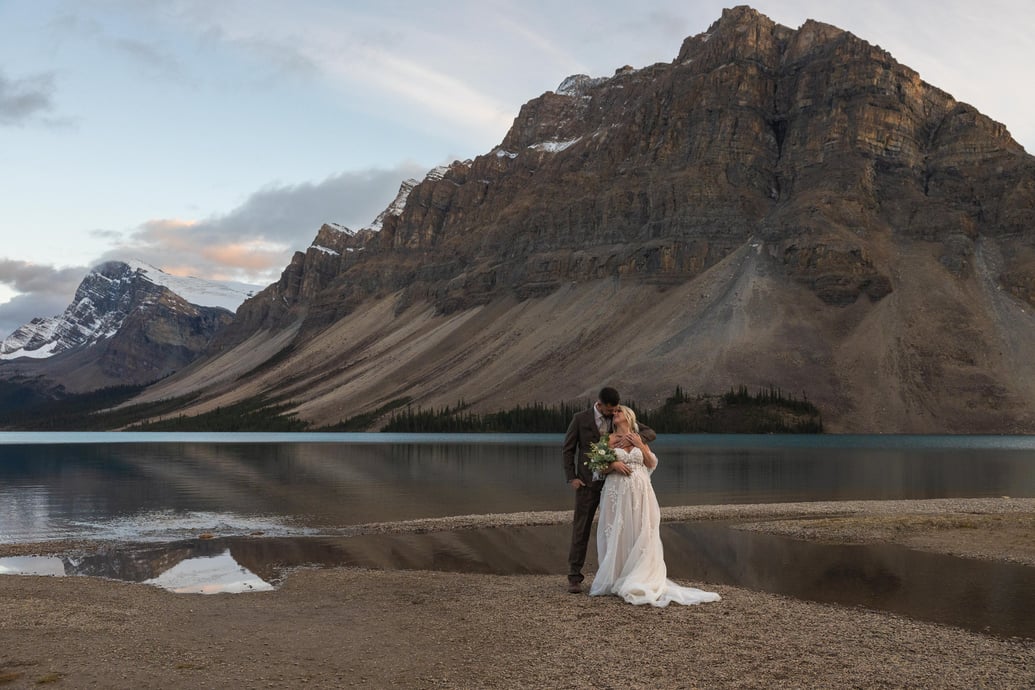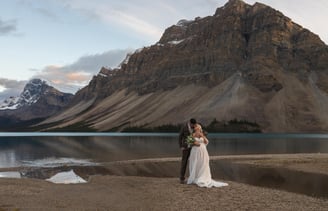 Your Banff Elopement Photographer
I am a Banff elopement photographer specializing in elopements in Banff, Canmore, Lake Louise, Jasper & Vancouver Island. I also shoot elopements in British Columbia and even beyond that!
Just like you, I understand that life's greatest treasures are moments. Not big elaborate things that will fade, but those moments doing what you love surrounded by our beautiful world with your favorite person.
As a fellow adventurer, I thrive on crafting elopement experiences that bring your personalities to life! I get it—traditional wedding photography might not resonate with your desire for intimate moments and genuine emotions. My goal is to tell your unique love story by capturing photos that tell a story.