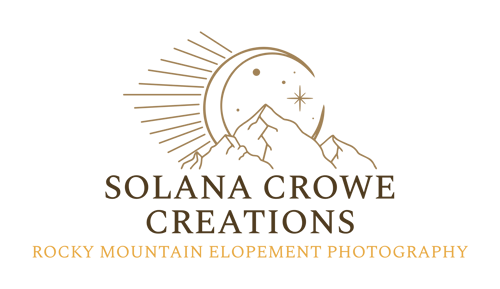 Banff Elopement Planning Guide
Dreaming of a Banff elopement? This guide gives you all the information you need to get started on your elopement in Banff!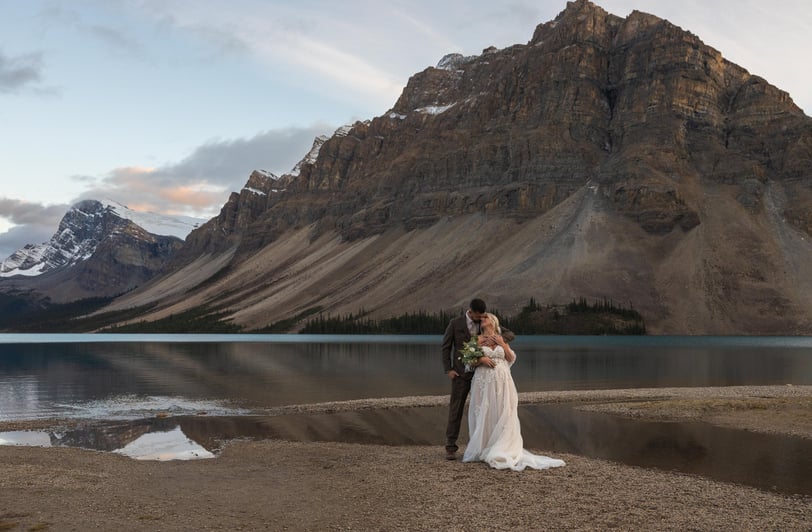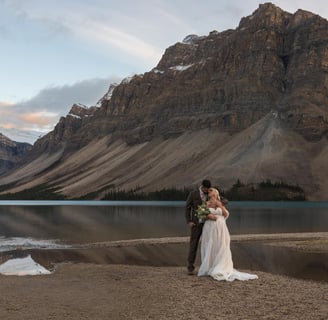 Your guide to the perfect Banff elopement.

I. Introduction
Elopements traditionally refers to a marriage conducted in a sudden and secretive manner, often without the knowledge or consent of one's family. Historically, elopements were associated with couples marrying against the wishes of their families or in defiance of societal norms. The couple typically escapes the usual ceremonial and familial trappings of a wedding, opting for a private and often spontaneous ceremony.
Banff, located in the heart of the Canadian Rockies in Alberta, Canada, is a stunning and iconic destination for couples seeking a scenic elopement. Renowned for its breathtaking mountain landscapes, pristine lakes, and alpine meadows, Banff National Park provides an enchanting backdrop for a romantic and intimate ceremony.
II. Benefits of Elopements
Intimacy and Privacy: Couples may choose to elope to have a more intimate and private wedding experience. Elopements allow them to focus on their commitment to each other without the pressures or expectations of a larger, more traditional wedding.

Cost Savings: Planning a traditional wedding can be expensive with costs associated with venue rentals, catering, and other services. Elopements often offer a more cost-effective alternative, allowing couples to allocate their budget towards a more personal or luxurious experience.

Flexibility and Spontaneity: Elopements provide a degree of flexibility and spontaneity that can be appealing to some couples. They can choose to marry in a location that holds personal significance, and the timeline can be more fluid and less structured than a traditional wedding.

Reduced Stress: Planning a traditional wedding can be stressful with the myriad of details to coordinate. Elopements simplify the process, reducing stress for the couple as they focus on the most essential aspects of their commitment.

Focus on the Relationship: Elopements allow couples to prioritize their relationship and the commitment they are making to each other without the distractions of a larger event. It's an opportunity to create a more personal and meaningful experience.

Changing Social Norms: As societal attitudes toward marriage evolve, there is less emphasis on conforming to traditional wedding norms. Couples are increasingly choosing paths that align with their values and preferences rather than societal expectations.
III. Eloping In Banff
Natural Beauty: Banff National Park is known for its unparalleled natural beauty. Towering snow-capped peaks, turquoise glacial lakes, and dense pine forests create a picturesque setting that is both awe-inspiring and romantic.
Iconic Landmarks: The town of Banff itself is nestled amid striking landmarks, such as Lake Louise, Moraine Lake, and the iconic Banff Springs Hotel. These locations offer stunning views and diverse settings for a memorable elopement ceremony.
Year-Round Appeal: Banff's beauty knows no season. Whether surrounded by wildflowers in the summer, golden foliage in the fall, sparkling snow in the winter, or blooming wildlife in the spring, Banff offers a magical setting for elopements throughout the year.
Adventure Opportunities: For couples seeking adventure, Banff provides numerous opportunities. From hiking to heli-tours, there are various ways to explore the pristine wilderness, creating unique and unforgettable experiences for couples and their guests.
Cosmopolitan Comfort: Despite its wild surroundings, Banff offers a touch of cosmopolitan comfort. The town boasts charming hotels, gourmet dining options, and a range of amenities, providing a perfect blend of luxury and natural beauty.
Elopement Services: Banff has a well-developed wedding and elopement industry, with experienced vendors and planners who can assist couples in creating their dream ceremony. Whether it's an intimate mountaintop exchange of vows or a lakeside celebration, Banff provides the infrastructure and expertise to make elopements special.

Banff Elopement Planning

Planning an elopement in Banff requires careful consideration of various factors. Here's a guide to help you plan your elopement in Banff.
Popular Banff elopement spots
Banff National Park in Alberta, Canada, is home to some truly stunning elopement spots, each offering a unique and picturesque setting for couples looking to celebrate their commitment in a memorable way. Here's a brief introduction to some of the popular elopement spots in Banff:
Lake Louise: One of the most iconic and photographed lakes in the world, Lake Louise is known for its vibrant turquoise waters and the majestic Chateau Lake Louise. The lake is surrounded by soaring mountain peaks and offers a stunning backdrop for elopements, especially during sunrise or sunset.
Moraine Lake: Famous for its breathtaking turquoise waters and the Valley of the Ten Peaks, Moraine Lake is another top elopement spot. The stunning mountain reflections in the lake create a dreamy and romantic atmosphere, making it a favorite for couples seeking an awe-inspiring setting.
Peyto Lake: For couples who want a truly epic view for their elopement with minimal walking! This viewpoint is secluded situated along the Icefields Parkway, and a hidden gem in Banff perfect for your ceremony. With only a 10-minute uphill walk the forest opens up to a beautiful viewpoint looking over Peyto Lake.
Sulphur Mountain: Accessible by gondola or a scenic hike, Sulphur Mountain offers panoramic views of the Bow Valley and the surrounding peaks. The summit provides a breathtaking location for couples looking to exchange vows with a bird's-eye view of the stunning landscape.
Vermilion Lakes: Just outside the town of Banff, Vermilion Lakes offers a serene setting with calm waters and reflections of Mount Rundle. It's a quieter option for couples seeking a more intimate elopement spot, surrounded by the beauty of the Canadian Rockies.
Bow Lake: Situated along the Icefields Parkway, Bow Lake offers a picturesque setting with the Bow Glacier in the background. The pristine lake and mountainous backdrop make it a serene and less crowded option for couples seeking a more secluded elopement spot.
Lake Minnewanka: Just outside the town of Banff, Lake Minnewanka is a beautiful lake perfect all year round. This lake is spacious so you won't feel too crowded even during peak season in Banff. Lake Minnewanka offers 360 views of the rocky mountains.
These elopement spots in Banff showcase the diverse beauty of the Canadian Rockies, providing couples with a range of settings to choose from based on their preferences for scenery, intimacy, and adventure. Each location offers a unique and unforgettable backdrop for a romantic elopement in this breathtaking natural setting.
Tips for choosing the perfect date and time for an elopement in Banff:
Seasonal Considerations: Banff experiences distinct seasons, each with its own charm. Consider whether you want a winter wonderland (December - March), vibrant fall foliage (September - mid-October), blooming wildflowers in the spring (April - June), or a warm summer ceremony (July- August).
Weather Conditions: Be aware of the typical weather conditions during your preferred time of year. Banff can experience snow even in the summer at higher elevations, so dress accordingly.

Sunrise or Sunset: The Canadian Rockies offer breathtaking views during sunrise and sunset. Choose a time that aligns with your vision for the ceremony and consider the lighting for photography.

Crowd Levels: Banff can be a popular destination, especially during peak tourist seasons. Choosing a weekday or less popular time can help you avoid crowds and have a more intimate experience. Peak tourist season In Banff is the end of June - September)
Discussing necessary permits and legal requirements for elopements in Banff:
Marriage License: Obtain a marriage license from a registry office in Alberta. Both partners must be present, with two pieces of ID.

Permits for Ceremony Locations: Some locations within Banff National Park may require permits for ceremonies. Check with Parks Canada or the local authorities to ensure compliance and secure any necessary permits. Otherwise, the basic permit is free to elope in the park.

Officiant: Ensure that your chosen officiant is legally authorized to perform the ceremony in Alberta. This may include a religious figure, a marriage commissioner, or a judge.
Outlining the steps involved in arranging elopement logistics, such as accommodations and transportation:
Accommodations: Research and book accommodations well in advance, considering your preferences, the areas you want to visit during your elopement, and the availability of lodging options in Banff or nearby towns.

Transportation: Plan how you'll get to Banff and navigate within the area. Whether you're driving, flying, or taking other means of transportation, consider logistics for reaching your chosen elopement spot. It is highly recommended to rent a car for your time in Banff. There are however many shuttle options to visit the most popular destinations in Banff. Moraine Lake requires a shuttle unless you stay at their resort so make sure you book in advance if you want to visit!

Photography and Videography: Capturing your elopement is important, hire a photographer and/or videographer familiar with the Banff area. They can provide valuable insights into ideal locations and capture the beauty of your ceremony. As a Banff elopement photographer myself, I offer complete planning assistance for your Banff elopement so you don't have to worry about missing a thing! You can get in touch with me at the bottom of this post or in the contact tab above.

Catering and Celebration: If you plan to celebrate with a meal or other festivities, research local catering options or restaurants for a post-ceremony celebration. Some venues may also offer elopement packages that include catering.

HMUA: There are a variety of salons in Banff and Canmore that do elopement hair and makeup as well as mobile HMUAs. Make sure to book them somewhat in advance as they book up somewhat quickly for popular days/times (weekends in the morning)
V. Banff Elopement Photography and Videography
Professional photographers and videographers play a crucial role in capturing the essence and beauty of elopements in Banff. Here's why hiring professionals is essential:
Expertise: Elopement photographers aren't just normal wedding photographers, they have a deep understanding of Banff's unique landscape, lighting conditions, and the best angles to capture stunning shots. Their expertise ensures that your elopement moments are beautifully documented. They also understand everything there is to know about your elopement in Banff! Think about it your Banff elopement photographer has done multiple elopements and can help you make sure yours runs smoothly.

Equipment: Professional photographers and videographers invest in high-quality equipment, ensuring that they can capture the details, emotions, and scenery with precision. This includes handling various lighting conditions that may be encountered in the diverse Banff environment.

Creative Direction: Professionals bring a creative eye to your elopement, suggesting unique poses, locations, and creative shots that can make your photos and videos truly stand out.

Emotional Moments: A skilled photographer knows how to capture genuine, emotional moments. From the exchange of vows to the subtle glances, professionals can document the authentic narrative of your elopement
Offering tips for creating stunning elopement photo ops in Banff's picturesque locations:
Timing is Everything: Take advantage of the golden hours during sunrise and sunset for soft, warm lighting that enhances the natural beauty of Banff.

Weather Considerations: Banff's weather can be unpredictable, so be prepared for various conditions. Embrace the snow in winter or the vibrant colors of fall.

Dress for the Occasion: Choose attire that complements the natural surroundings. Flowing dresses, suits, or even more casual outfits that match the landscape can enhance the visual appeal of your elopement photos!
Hiring professionals and carefully planning the visual aspects of your elopement in Banff ensures that the moments are not only captured but transformed into stunning visual memories that you'll cherish for a lifetime.
VI. Elopement in Banff Post Celebration
Banff offers a plethora of romantic activities for newlyweds to enjoy after their elopement. Consider:
Hot Springs: Relax and unwind at the Banff Upper Hot Springs. The warm, mineral-rich waters provide a soothing and romantic experience with stunning mountain views.

Scenic Drives: Take a leisurely drive along the Icefields Parkway or Bow Valley Parkway, reveling in the breathtaking mountain landscapes.

Helicopter Tour: Elevate your celebration with a helicopter tour over the Rockies, offering unparalleled views of Banff's majestic peaks and valleys.

Canoeing on Lake Louise: Experience the serenity of Lake Louise by taking a canoe ride together, surrounded by the stunning mountain scenery.

Stargazing: Banff's clear night skies provide a perfect backdrop for stargazing. Consider a romantic evening under the stars at one of the viewpoints.

See the mountains on horseback: There are a few stables in Banff that offer trail rides so you can see Banff on horseback.

Gandola: Take the Banff gondola up to the top and look out over the tow and the beautiful mountain peaks! You can also take the gondola at Sunshine Village or lake Louise.
VII. Conclusion

In the end, your Banff elopement is not just an event; it's a chapter in your love story, set against the breathtaking canvas of the Canadian Rockies. With careful planning, the right professionals by your side, and the unparalleled beauty of Banff, your elopement becomes more than a moment – it becomes a memory etched in the soul of nature's grandeur and your shared commitment. Embrace the intimacy, savor the adventure, and let Banff be the witness to the beginning of your extraordinary journey together.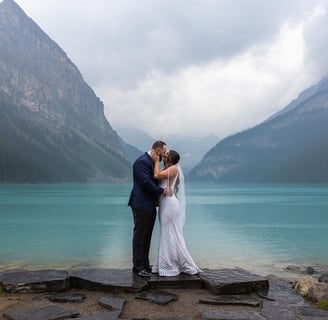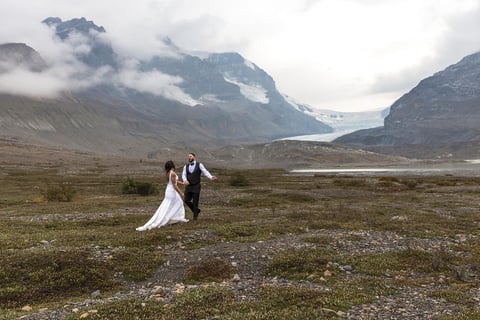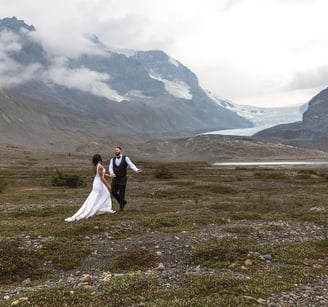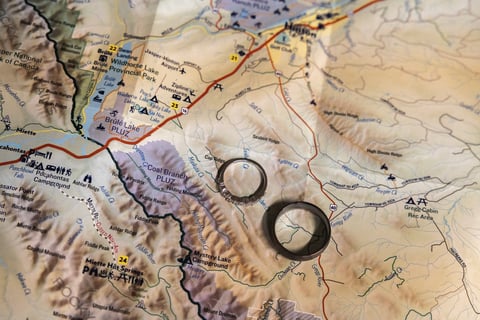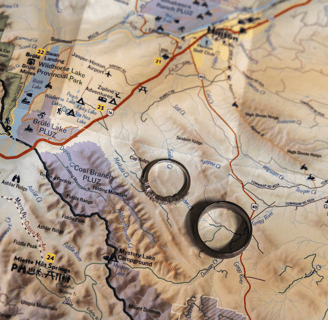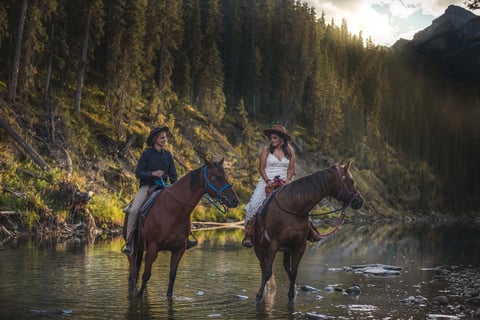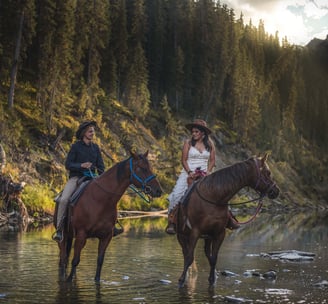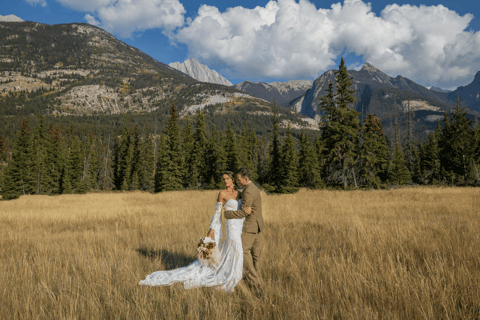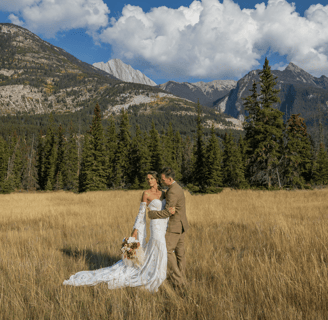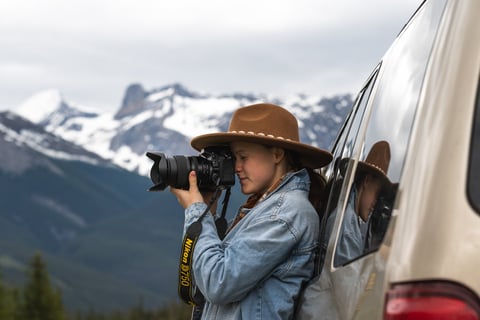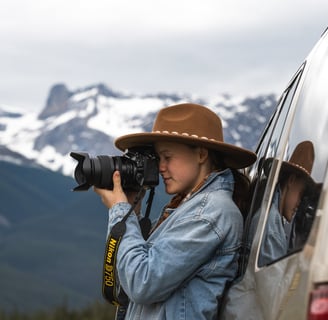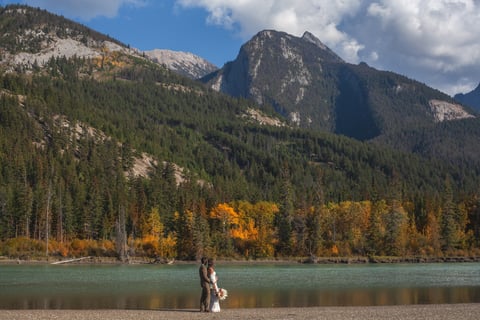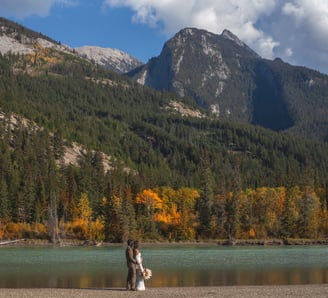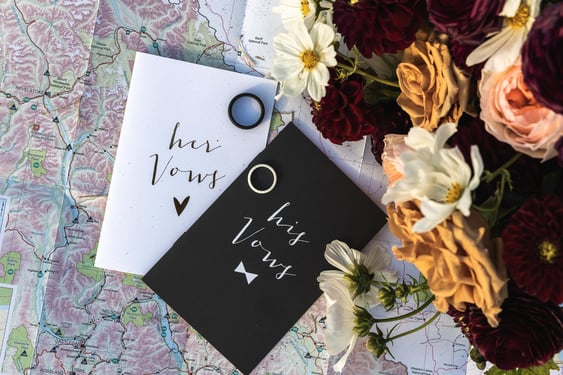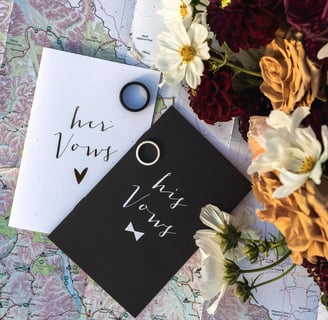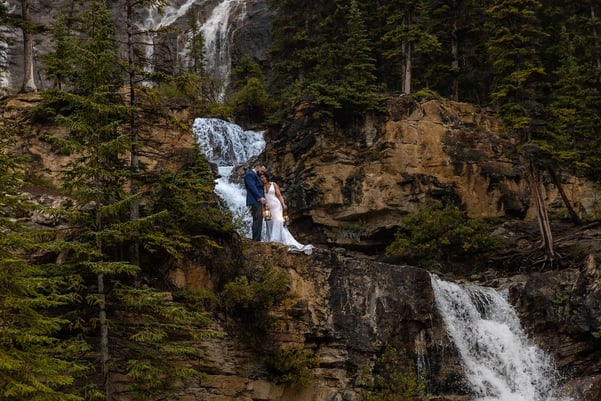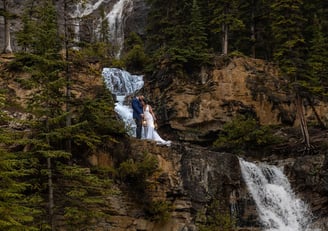 Your Elopement Photographer
I am a Banff elopement photographer specializing in elopements in Banff, Canmore, Lake Louise, Jasper & Vancouver Island. I also shoot elopements in British Columbia and even beyond that!
Just like you, I understand that life's greatest treasures are moments. Not big elaborate things that will fade, but those moments doing what you love surrounded by our beautiful world with your favorite person.
As a fellow adventurer, I thrive on crafting elopement experiences that bring your personalities to life! I get it—traditional wedding photography might not resonate with your desire for intimate moments and genuine emotions. My goal is to tell your unique love story by capturing photos that tell a story.