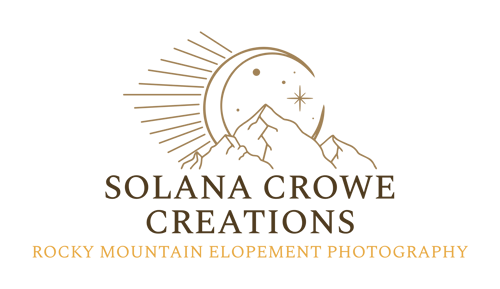 The Ultimate Lake Louise Elopement Guide: Everything You Need to Know
Thinning about eloping at Lake Louise? In this guide I will let you know all the things you need to know before planning your lake Louise elopement.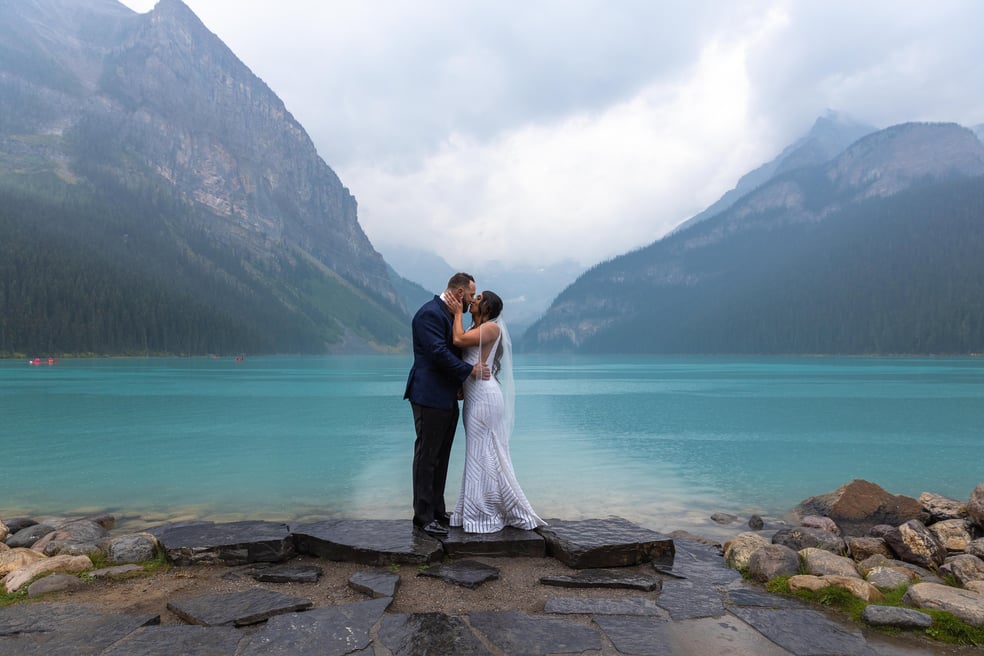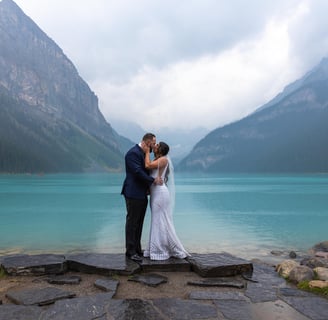 Are you dreaming of a breathtaking, intimate wedding surrounded by nature's beauty? Look no further than Lake Louise, one of the most stunning destinations in the world for elopements. Nestled in the heart of the Canadian Rockies, Lake Louise offers a magical backdrop for your special day. In this guide, we'll cover everything you need to know for your Lake Louise elopement, from logistics and accommodations to nearby attractions and activities.
Logistics
Before diving into the enchanting details, it's essential to understand the logistics of planning an elopement at Lake Louise. Here are a few key things to keep in mind:
Tourists: Lake Louise is a popular tourist destination, especially during the summer months. Consider scheduling your elopement during the quieter times of the year to avoid crowds. If you want to have your ceremony at Lake Louise, I would recommend during the winter months as there is more space to find seclusion due to the Lake being frozen. But if you want a summer elopement I recommend having your ceremony later in the day before sunset to avoid crowds. When you arrive at the lake, if you walk to the other side of the hotel you will see a grassy hill overlooking the lake. This is the best spot to have your ceremony at lake Louise.

Parking: Parking can be limited, so arrive early, closer to sunset or consider utilizing shuttle services provided by parks Canada.
Places to Stay: Lake Louise offers a range of accommodations, from luxury resorts to cozy cabins. Some popular options include the Fairmont Chateau Lake Louise, Deer Lodge, and Baker Creek Mountain Resort.

Places to Eat: Indulge in delicious cuisine at one of the many dining options around Lake Louise. From fine dining experiences to casual cafes, you'll find something to satisfy every palate.
Attractions Near Lake Louise
During your elopement at Lake Louise, take the opportunity to explore the breathtaking attractions nearby. Here are a few must-visit locations:
Moraine Lake: Just a short drive from Lake Louise, Moraine Lake is a turquoise gem nestled in the Valley of the Ten Peaks. The stunning beauty of this location will leave you in awe. This lake is only accessible by shuttle, so if you want moraine Lake to be apart of your lake Louise elopement make sure to book your shuttle in advance on parks Canada's website.
Takkakaw Falls: Venture a bit further to Yoho National Park, and you'll discover Takkakaw Falls, one of the highest waterfalls in Canada. The thundering sound and misty atmosphere create a truly romantic setting.

Emerald Lake: Known for its vibrant emerald color, Emerald Lake offers a serene and picturesque setting for your elopement. Take a leisurely stroll around the lake or rent a canoe for a romantic experience.

Bow Lake: Located along the Icefields Parkway, Bow Lake is a hidden gem with crystal clear waters and stunning mountain views. It's the perfect spot for a romantic picnic or a quiet moment together. This spot is a great one to see blue water and less crowds.
Peyto Lake: Just a short 10 minute hike from the highway, Peyto Lake rewards you with panoramic views of the surrounding mountains. The vibrant blue color of the lake is a sight you won't soon forget and the perfect spot for your ceremony. There are two viewpoints for this spot, the lesser know one being the better option. You can find it by using an app like Alltrails where you can look up Peyto lake panorama viewpoint. Its a little tricky to stay on the trail, so make sure you download an offline map as there is no service anywhere along the Icefeild parkway.
Activities at Lake Louise
Aside from the breathtaking scenery, Lake Louise offers a variety of activities for you and your partner to enjoy during your elopement:
Canoe on Lake Louise: Rent a canoe and paddle across the crystal clear waters of Lake Louise. This romantic activity allows you to immerse yourself in the tranquility of the lake.

Lake Louise Gondola: Take a scenic gondola ride to the top of the mountain and enjoy panoramic views of the surrounding landscapes. This is a perfect way to capture stunning photos of your elopement.
Hikes at Lake Louise: Lace up your hiking boots and explore the numerous trails around Lake Louise. From leisurely walks to challenging hikes, there's something for every skill level.
Conclusion
Lake Louise is a dream destination for couples seeking an intimate elopement surrounded by natural beauty. From the logistics of planning your elopement to nearby attractions and activities, this guide has covered everything you need to know. Prepare to say your vows in a place that will take your breath away and create memories that will last a lifetime.
I am a Banff elopement photographer specializing in elopements in Banff, Canmore, Lake Louise, Jasper & Vancouver Island. I also shoot elopements in British Columbia and even beyond that!
Just like you, I understand that life's greatest treasures are moments. Not big elaborate things that will fade, but those moments doing what you love surrounded by our beautiful world with your favorite person.
As a fellow adventurer, I thrive on crafting elopement experiences that bring your personalities to life! I get it—traditional wedding photography might not resonate with your desire for intimate moments and genuine emotions. My goal is to tell your unique love story by capturing photos that tell a story.